Transforming Construction Industry Through Prefabrication For Safer Working Conditions and Environmental Sustainability
Company Profile
Fuxin was established in 2012 with the mission to transform the local construction    tradition of warehouses and factories from using conventional  truss design systems to pre-engineered building systems. Started with four fresh graduate engineers, today Fuxin is breeding ground for talented and committed young professionals of more than three hundred dedicated staff.
A member of ISI GROUP, Fuxin builds upon extensive experience and expertise of the Group in the area of manufacturing and industrial development. Today we have completed over 450 projects including some of the country's most well-known projects Aeon Mall Sen Sok Parking Structure, and International Exhibition Hall.
As part of our continued improvement policy, we obtained ISO 9001:2015 accreditation in 2019.
Our company's core purpose and vision is to transform the building construction industry by creating an inspiring and safe working environment. This vision has guided us to expand our scopes of business beyond pre-engineered building into a steel structure. More specifically, we discover that we need to pursue the intersection of our passion, our core capability, and our financial driver. We call this intersection "Prefab Design and Build".
In ten to twenty years into the future, we envision ourselves to be the pioneer in the prefabrication industry and play a predominant role in transforming the construction industry in Cambodia and the region.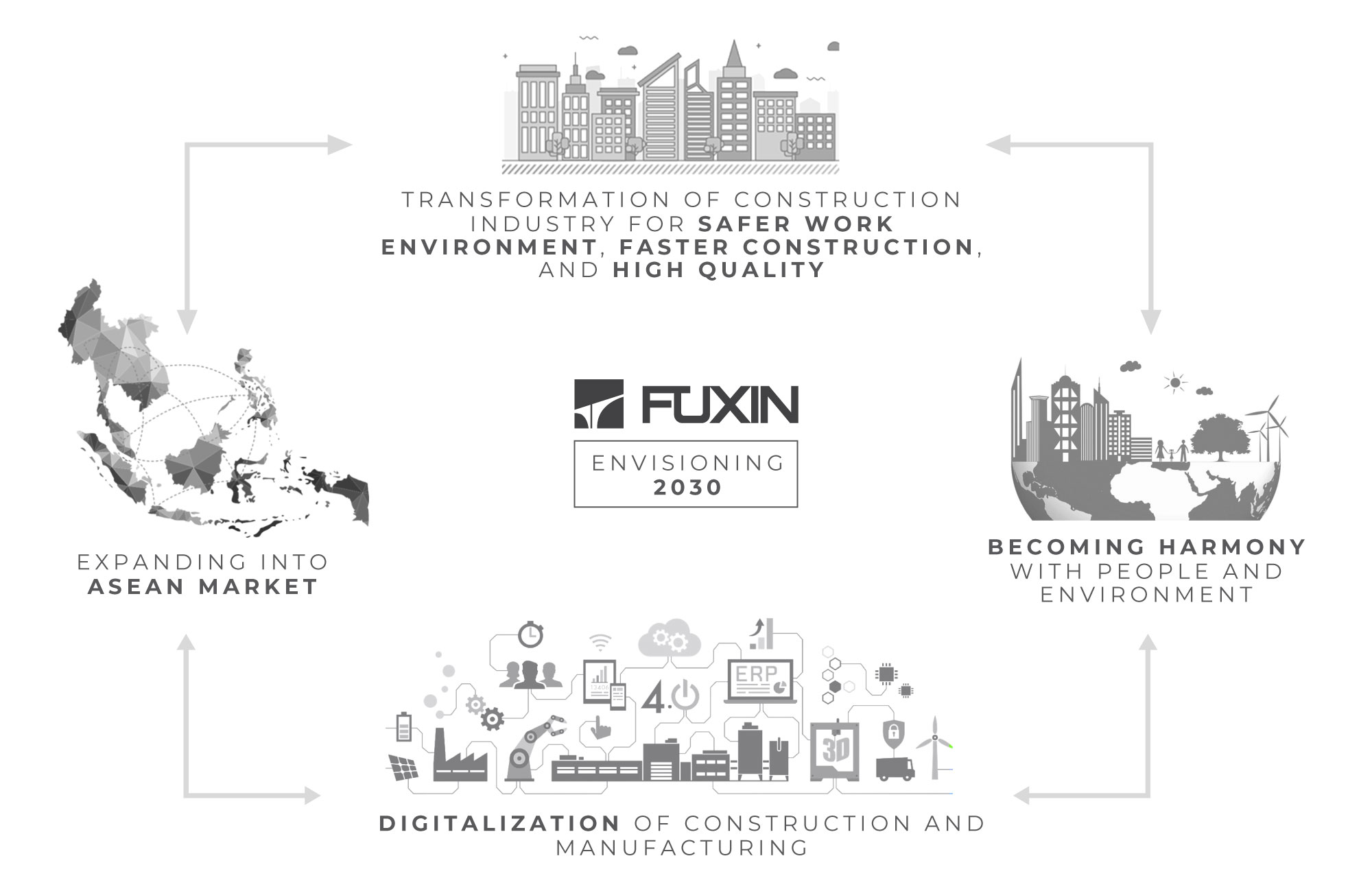 Aspiration
Our passion is to design, build faster and build better beautiful buildings. What we can be best beyond our core capabilities is streamlining design, fabrication, and construction through implementing BIM technology. Our design and engineering value add together with our strength in engineering, manufacturing and construction processes will in turn yield high productivity and will provide us competitiveness in the long-term.
Our DNA is fused from Engineering and Innovation. We love what we do and do it with dedication and hard work. We never compromise on our Integrity because we believe Integrity is the foundation where we stand for centuries and beyond. 
We foster the culture of harmony and promote work-life balance because we believe one's well-being is the most fundamental source for good doings in society.  
We build while minimize our footprint on the environment and planet, we blend ourselves with the environment because we believe going along with nature is the most efficient way of achieving growth and maintaining the environmental sustainability.
About ISI GROUP
From humble beginnings as a small, family-run business, we are now one of Cambodia's most respected, successful and diversified corporations. With more than 20 years' experience, our companies lead markets across the building, construction, property and technology sectors. We are committed to building our human capital, investing in technology and bringing the most innovative products and services together for our customers.
At ISI GROUP, we are deeply committed to our vision: to create and build a better living for all and act on this through our core values of Hard Work, Integrity and Innovation. Our CSR programs are driven by our vision and the goal to give back to the communities where we do business, promoting positive social change through four key areas: Education, Healthcare, Sports and Housing.
Our people are the heart of ISI GROUP. They are daring change-makers who approach their goals with creativity, challenging the status quo to make innovative ideas a reality. We aim to create and build a safe and happy workplace that our staff can call home, where knowledge and experiences are learned and shared, and where people find a work-life balance. All staff is a part of the ISI GROUP family.
visit  isigroup.com.kh